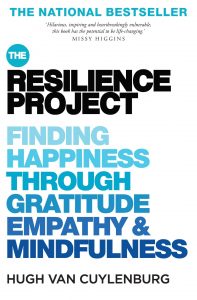 The Resilience Project : finding happiness through gratitude, empathy & mindfulness by Hugh Van Cuylenburg
Reserve this book here  or listen now on Borrow Box.
I have just finished listening to the The Resilience Project.
I decided to listen to it after hearing about it from my daughter who went to see him on the Gold Coast a few weeks back. This is not normally my cup of tea but I really enjoyed it and plan to put some of his ideas into practice for myself.
One is a journal and writing down three things you are grateful for and have achieved in the day – the positive things that happened to you that day. After listening to Hugh Van Cuylenburg – this can be life changing. And his talks have changed and saved lives.
Hugh talks about GEM – Gratitude, Empathy and Mindfulness. He talks about his time as a school teacher and his life changing volunteering in India. He has spoken to all the NRL clubs and AFL Clubs. Dusty Martin (Richmond AFL) is a huge fan of the Resilience Project and a big advocate for the journals. He also spoke about the Resilience Project to the Australian cricket team which was his dream gig but not without dramas (quite a funny story). He has also spoken to employees at the big mines.
I also believe I enjoyed listening to it rather than reading it but that is just my personal opinion. The library has a copy The Resilience Project in the collection as well as an eBook and eAudio on Borrowbox.
Reviewed by Gary Ellem – Regional Library Manager.