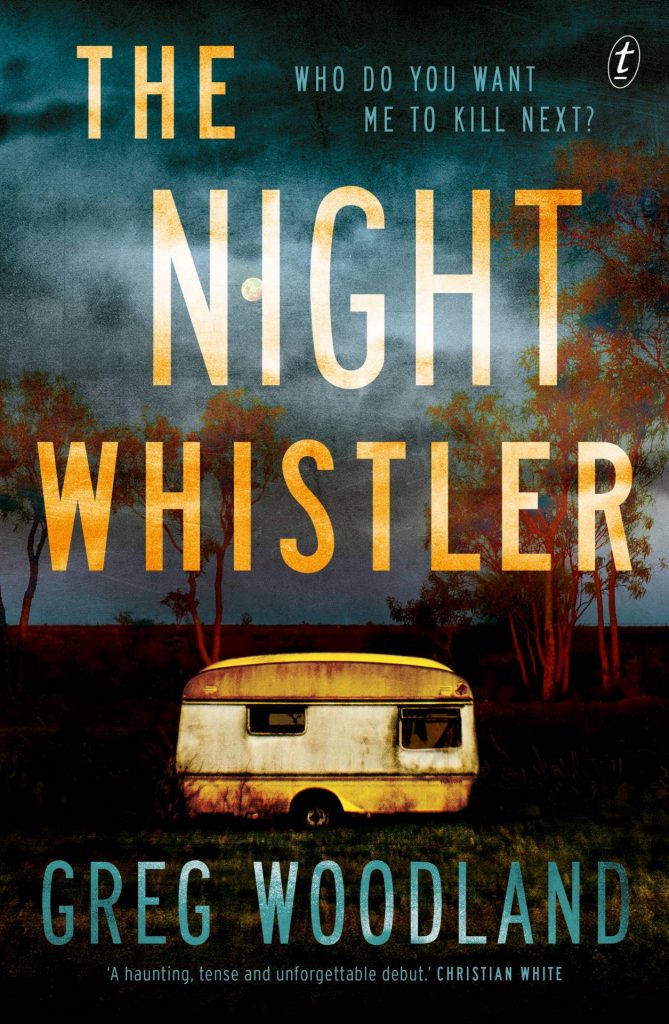 The Night Whistler by Greg Woodland
This a debut crime/thriller novel by an Australian author.
In 1967 bigoted, small-town NSW, a disgraced detective and a twelve-year-old crime buff forge an alliance against the mysterious animal killer and psychopath terrorizing the boy's family.
Former Detective Mick Goodenough and twelve-year-old crime buff Hal Humphries have little in common except that they're new to Moorabool, they're friendless and they love dogs. Their lives collide at an abandoned caravan on the outskirts of town. Hal and his brother discover a murdered dog in a rusty drum and give him a Christian burial. Later, Constable Goodenough stumbles on the grave, realizes the dog is his missing German shepherd, Charlie, and vows to find the sadistic killer.
When Hal's dad is sent away for weeks on business, his mum starts getting menacing phone calls from a caller who whistles and says he wants "to kill for her". She fights back, and the Whistler's terror campaign escalates.  Mick Goodenough believes the Whistler is more than a harmless 'snowdropper', but he's laughed out of the station by his superiors.
Hal launches his own investigation, helped by his new friend, a feisty Aboriginal girl called Allie. Their hunt for the Whistler is a distraction for Hal from the breakdown of his parents' marriage. It becomes more than that when he finds the body of his father's mistress in the old caravan.  The cops quickly convict her husband of the murder but only Mick recognizes the animal-killer's handiwork and the looming danger to Hal's family.
If you enjoyed reading Christian White, author of "The wife and the widow" and the "Nowhere child" you will enjoy "The Night Whistler"
Gary Ellem – Regional Library Manager