The last days of John Lennon : the assassination that changed a generation by James Patterson with Casey Sherman and Dave Wedge

[eAudiobook version read by Matthew Wolf and K.C. Clyde]
Reserve the physical book here.
I listened to the eAudiobook on Borrowbox and thoroughly enjoyed listening to it while travelling to and from work each day. The narrators doing the Liverpool accents of John, Paul, George and Ringo was entertaining.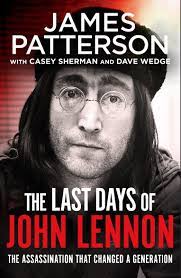 While the book discusses the assassination of John Lennon in 1980 by Mark Chapman, a lot of the chapters are also about how the Beatles came about and explains how they met and became the most famous band of all time. The different chapters discuss all their music and some of their amazing albums such as Sgt Peppers Lonely Hearts Club Band, The White Album and Abbey Road. It also goes into details the breakup of the Beatles and all their different relationships, particularly that of John and Yoko. In among the chapters about the Beatles there are chapters where we are put tin the shoes of Mark Chapman and how he planned what he was going to do. The author has taken some poetic license here but it is still interesting in what was possibly going through Mark Chapman's mind at the time.
They say everyone remembers where they were when JFK was shot and it is the same with John Lennon (I was hoping on a bus in Martin Place in Sydney).
I had also just finished watching the 2021 Documentary on the Beatles – Get Back, which is about the making of the Let it Be album. I highly recommend this documentary as well.
5 stars.
Reviewed by Gary Ellem – Manager Regional Library