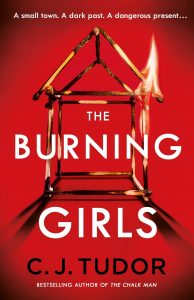 The Burning Girls by C.J. Tudor
This is the fourth book I have read by C.J. Tudor and I have really enjoyed them all. This is another psychological thriller.
A female vicar moves to a small village in the English countryside where she discovers that there is an interesting history involving murder and disappearances and families keeping dark secrets. Reverend Jack Brooks (it took me a few pages to work out the Reverend was a she) uncovers some dark secrets in the village.
I enjoy books with a twist and I try to guess what it will be but I didn't see the twist in this book coming.
If you enjoy psychological thrillers I highly recommend C.J. Tudor. Her other books include The chalk man, The taking of Annie Thorne, and The other people.
Reviewed by Gary Ellem – Regional Library Manager