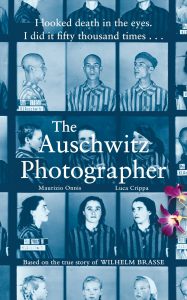 The Auschwitz Photographer by Luca Crippa and Maurizio Onnis
Having been to Auschwitz and seen what a harrowing and distressing place it is, books on Auschwitz have always fascinated me and the title of this book caught my attention.
This book is very similar to "The Tattooist of Auschwitz" and "The happiest man on earth" describing the hell and horror of the holocaust. Both these books are available at the library as well as in eBook and eAudio.
Wilhelm Brasse is Polish, who after German invaded Poland in 1939, refused to swear allegiance to Hitler and is deported to Auschwitz as a political prisoner. Prior to this he was a talented photographer and so he was ordered by the SS to take identification photographs of prisoners as they entered Auschwitz.
In the book Wilhelm describes how he met Dr Josef Mengele and was forced to photograph his criminal medical experiments.
I enjoyed reading this book even though it was about the horrors of the Holocaust and gave some disturbing examples of a death camp under the Nazi regime.
Reviewed by Gary Ellem – Regional Library Manager