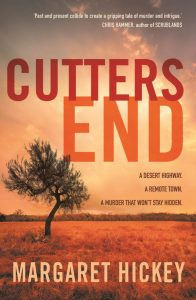 Cutters End by Margaret Hickey
I thoroughly enjoyed this debut novel which is a crime thriller set in Cutters End, an outback town in South Australia. It is a cold case involving a murder 32 years earlier on desert highway of man who was considered a local hero. Initially ruled an accidental death it now becomes a murder investigation.  The Detective  doing the investigation is a flawed but likeable character like many other books set in Australia. Two of his old girlfriends are part of the answer to the murder mystery and the book delves in to his relationship with his wife and the other police assigned to the case.
The book was very similar in some ways to "The Dry" by Jane Harpers and "Scrublands" by Chris Hammer. So if you enjoyed those books I think you will enjoy "Cutters End"
I give it 4 stars and look forward to reading Margaret Hickey's next book.
Reviewed by Gary Ellem, Regional Library Manager.