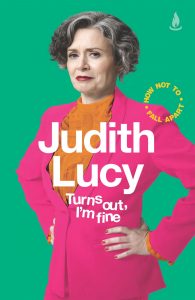 Turns Out, I'm Fine by Judith Lucy.
Judith Lucy is an actress, and one of Australia's most popular and successful stand-up comedians. In this biography, she writes as she performs – her style is candid, at times confronting, with a liberal use of expletives, but always wry and entertaining.
This book is a brutally honest exploration of her life's journey along a rather rocky road. She delves into her relationships with her dysfunctional adoptive family and with her birth mother, her "disastrous history with men", her comedy career, the death of loved ones, the collapse of her relationship with "The One", grief, finding a way forward as a single woman "without a man to complete her" as she had always thought necessary, menopause, bodily functions, searching for her birth father, and "how not to be an a*%#hole person".
Amongst other things, the latter quest sees Ms Lucy become involved with community through volunteer work, climate action, involvement with nature (including swimming with whales!), and in her own words "searching and learning and letting go until the very end."
I thoroughly enjoyed reading Judith Lucy's story, but it is not one for the easily offended!
Reviewed by Cheryl Thompson –  Kyogle Library Assistant.