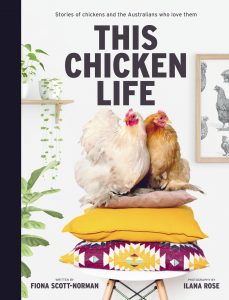 This Chicken Life : Stories of chickens and the Australians who love them
by Fiona Scott-Norman
Backyard chicken keeping is having a revival – and when better than while people have been staying at home in lockdown, often for long periods of time! As this wonderful collection of stories highlights, chickens are great for people's mental health and general well-being, they are entertaining and often hilarious creatures, and, of course, they provide delicious, nutritious eggs.
This celebration of chickens and their adoring keepers is a collaboration between Fiona Scott-Norman – a writer, comic and dedicated chicken owner (she currently has 8 bantams) and acclaimed photojournalist and photographer Ilana Rose.
Every story in this collection is interesting and worthy of inclusion, but my absolute favourite is that of young Max Cosgrove. Twelve years old, chicken keeper (he has around 100 at any one time), chicken entrepreneur, fundraiser for breast cancer research, creator of a range of adorable chicken fashions and accessories, schoolboy, loving son, and altogether a most impressive, inspiring young man.
There is also young Summer Farrelly – another highly motivated twelve year-old who is on the autism spectrum and has OCD "Obsessive Chicken Disorder" (she has 10 chickens, plus her many therapy chickens). Summer is the instigator for the creation of prosthetics for chickens, creator of an autism therapy program using chickens as therapy animals, a multi-media artist (her works are of chickens, of course!), she is a community, chicken and autism activist, and winner of several notable awards Including Autism Queensland's Creative Futures Recognition Award. Highly impressive young girl!
Another very inspiring story is that of Shane Secombe, the horticultural officer at Alice Springs Correctional Centre. Known widely as "the chook guy" he currently has 30 roosters in his care. Shane's adoption of unwanted roosters has become both a community service and a therapy program for the prison inmates who benefit greatly from having these animals to care for and to help tend to.
Oh, and there's also a story about ABC's Gardening Australia Costa Georgiadis and his 2 greatly adored chickens who live in suburban Sydney.
There are so many great stories, and so many gorgeous chickens and handsome roosters in this book! If you keep chickens, or are thinking of doing so, or just generally love chickens (like me!), then this delightful, entertaining book is highly recommended.
Reviewed by Cheryl Thompson – Kyogle Branch Library Assistant