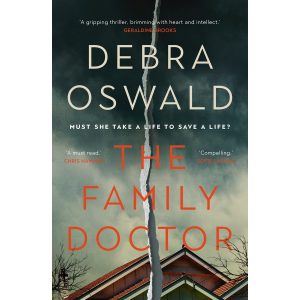 The Family Doctor  by Debra Oswald.
Debra Oswald is an award-winning author of both adult and children's fiction, as well as creator of film, television, stage and radio scripts. An Australian, she is the creator of the hugely popular TV series Offspring.
In her latest novel, The Family Doctor, Oswald has created a timely, thought provoking work that delves into issues of domestic violence, the Australian judicial system, and medical and moral ethics.
The central character of the title is suburban GP Dr Paula Kaczmarek. Widowed, Paula has given refuge to her friend Stacey and her two children who have fled a situation of domestic violence.
When Paula arrives home one evening, she discovers the murdered bodies of Stacey and the children, and is then witness to Stacey's estranged husband and murderer fatally turning the gun on himself.
Paula is understandably traumatised. Devastated, full of feelings of guilt that she didn't do more to protect her friend, she suffers PTSD. She turns to her close friend Anita who was also long-time friend of Stacey, and together they try to cope with the tragedy that has occurred.
Not long after the tragedy, when she returns to her medical practice, Paula encounters a woman and her son who are victims of domestic violence. Events unfold that set Paula on a path that makes her question her moral and medical ethics.
Is it ever justifiable taking a life to save a life? If no-one else will protect those at risk, should she intervene?
Debra Oswald has created a gripping story that is about horror and tragedy that is domestic violence, but also about female friendship, grief, love, psychological trauma, and moral dilemmas.
Reviewed by Cheryl Thompson, Kyogle Library Assistant.