The dictionary of lost words – written by Pip Williams

I am not generally a reader of historical fiction, but this book came highly recommended to me by a family member who has listed it in his top 5 books of 2021. After reading it, I can see why, and it is now in my top 5 as well.
The Dictionary of Lost Words is the multi award winning debut novel by South Australian resident Pip Williams. She has previously written a non-fiction book called One Italian Summer which was published to wide acclaim.
Thoroughly researched,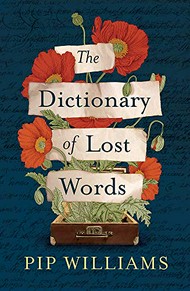 The Dictionary of Lost Words is based on true events and covers a timespan of over 100 years from around 1882 – 1989. The central story is the compilation of the Oxford English Dictionary, but other main issues skilfully interwoven include women's rights and the suffragette movement, and the outbreak of World War 1 and the impact it has on the work on the Oxford Dictionary, and on the lives of the story's characters.
The (fictional) central character in the novel is Esme Nicoll, born in Oxford, England in 1882. Esme is raised by her father Harry, a lexicographer, after her mother dies when Esme is still very young. She spends her childhood beneath the sorting table in the Scriptorium (a corrugated iron garden shed) where her father works for Sir James Murray the compiler of the Dictionary, along with a team of lexicographers and assistants.
It is here that the team sort and assess the potential contributions sent to them by volunteers. One day young Esme finds and keeps a paper slip containing the word "bondmaid" that has been dropped and gone unnoticed by one of the lexicographers. She places it in a wooden suitcase that belongs to Lizzie, the Murray family's housemaid who also helps to care for Esme and becomes a close friend to Esme over the years as she grows into a woman.
Esme begins to collect and store in Lizzie's suitcase other words that are misplaced or discarded in the Scriptorium. Over time Esme concludes that some words are considered (by men) to be more important than others, and that often words and meanings relating to women and their experiences, or words that are considered vulgar, go unrecorded. With Lizzie's help, Esme begins to collect such words from stallholders at Oxford's Covered Market, and from other people she meets outside of the Scriptorium.
In time Esme's trunk is full of such words, it becomes her Dictionary of Lost Words.
My case is like the Dictionary, I thought. Except it's full of words that no one wants or understands, words that would be lost if I hadn't found them.
There is so much more to Esme's story than her Dictionary of Lost Words and her work on the Oxford Dictionary – Pip Williams has created a wonderfully well-rounded character in Esme. We follow her life journey, her experiences of love, friendship, loss, grief, and the people in her life, both inside and outside of the world of the Scriptorium.
Being a word lover, I thoroughly enjoyed this book. It is a thought-provoking look at the power of language and the impact that it can have.  It is a masterful blend of fiction and historical fact that is both entertaining and informative.
Reviewed by Cheryl
Kyogle Branch Library Assistant.