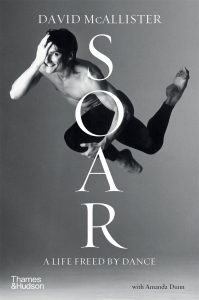 Soar: A Life Freed by Dance
By David McAllister with Amanda Dunn.
Although not necessarily a lover of ballet, I have always found magazine articles, radio interviews, or television specials (such as the terrific ABC's "And We Danced") with David McAllister interesting and inspiring.
This 2020 biography, co-authored with journalist Amanda Dunn, did not disappoint. I found the story of McAllister's life and career to date both entertaining and fascinating (oh, to have a talent such as his!)
The book follows his story from his birth and upbringing in Perth, the bullying he endured throughout his school years, and the tremendous belief and loving support from his family as his natural dance talent was nurtured through ballet classes from a young age.
From Perth, McAllister moved to Melbourne to join the Australian Ballet School, working his way up through the ranks to achieve his lifelong dream of becoming a principal artist. Throughout his long dance career with the Australian Ballet he danced with many prestigious ballet companies around the world, received awards and great accolades, and overcame serious injury.
When he retired from dancing, McAllister was appointed Artistic Director of the Australian Ballet, a position he held for twenty-one years, transforming the company into one of the top dance companies in the world.
Aside from his illustrious career, he reflects on his family, relationships, and on the long struggle with, and the eventual embracing of, his sexuality.
Now focusing on freelance staging and choreographing of ballet productions overseas, this talented, inspiring man deserves the success, the awards, and the respect that his career has garnered.
I enjoyed reading about his journey.
Reviewed by Cheryl Thompson, Kyogle Library Assistant.