Love, Clancy : A dog's letters home by Richard Glover.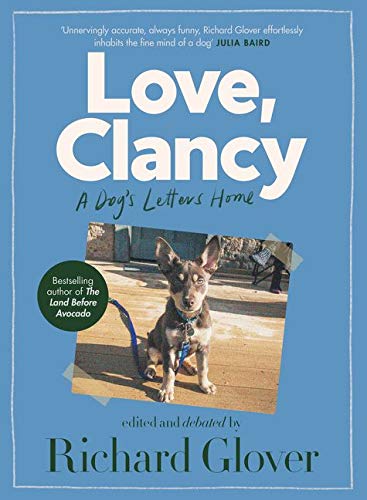 Richard Glover is an Australian writer who has a regular column in the weekend Sydney Morning Herald, has written several well acclaimed books for both adults and children, and is also a radio presenter on ABC Radio.
Following the death of Richard's beloved dog Darcy, the Glover household acquired new pup Clancy – an adorable, mischievous, intelligent Kelpie.
Richard soon began recording in his newspaper columns Clancy's letters to his (dog) parents back home on the farm where he was born. This book is a collection of Clancy's letters, with the addition of Richard's views on Clancy's comments.
Through his letters home, we follow Clancy's life and adventures in his new life in the city, including his witty criticisms of his humans, Man and Lady, in his on-going efforts to train them (they are a bit slow on the uptake, especially Man); the fun and friendships with other dogs and their humans at the local park; the hard work put into digging, and re-digging, his backyard "wallow;" the love given and received between dog and his human; and revealing just what dogs are thinking about their human counterparts.
Richard Glover has given us a delightful, light-hearted, insightful look at his dog's life and the workings of a dog's mind that will both amuse, and resonate with, dog lovers in general, and especially the humans who, like me, are fortunate enough to share their lives with a canine companion 😊
Reviewed by Cheryl Thompson – Kyogle Library Assistant.