Waiting by Philip Salom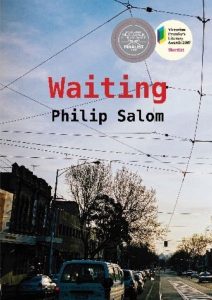 This is an affectionate and heartfelt portrayal of characters who are considered misfits in our society, without romanticising poverty.
There are two main characters living in reduced circumstances, but this world has its own rules and code of conduct within which great bravery and courage are compassionately and poetically portrayed.
It is very dense prose with funny/humorous moments in the struggle to exist with honour to ones ideal of self.
Two secondary characters overlap and give an opposing view of society, a more affluent experience.
C.E. James – Kyogle Library member