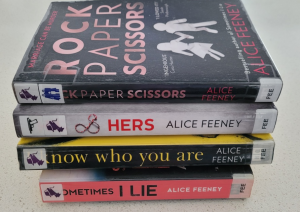 Alice Feeney.
If you liked Gone Girl and Girl on a Train, I'm sure you will enjoy these books by Alice Feeney.
Sometimes I Lie
I  Know Who You Are
His & Hers
Rock Paper Scissors
I have just finished the fourth book, Rock Paper Scissors and like each book before it I found it so hard to put down. I have read all four books in the last three weeks.
Each story draws you in very quickly and just when you think you have it all worked out, there is a massive twist.
Definitely give all of the books 5/5.
Note: Two of the books are currently in pre-production for a TV series and I can't wait to watch them.
Reviewed by Annette Ellem, Library Member.