Richmond Valley residents should plan for a grand Australia Day at the Casino Drill Hall precinct with preparations under way for a full program of spectacular events.
As in past years, a local committee is chosen to host the day for the official Richmond Valley Australia Day celebrations. For 2020, the Casino Military Museum crew has been working behind the scenes to create a day which will show off what the new precinct has to offer.
Committee member Owen Newell is encouraging people of all ages and areas to join in the Australia Day fun. He said Australia Day 2020 was shaping up to be a wonderful day celebrating what was great about our beautiful Valley, and our wonderful country.
"The Australia Day Committee looks forward to seeing residents and visitors at Richmond Valley Council's annual Australia Day celebrations in Casino on Sunday 26 January," Mr Newell said.
"We encourage everyone to make the most of the free entertainment, games and races, and market stalls."
Below: The Casino Drill Hall precinct: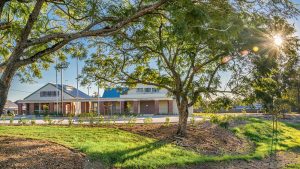 Next year's event also provides the community an opportunity to celebrate, honour and –  most importantly – say "thank you" to our firefighters and other emergency services personnel for the outstanding job they have been doing by putting their lives on the line to protect people and properties during the recent bush fires.
Richmond Valley Council Mayor Robert Mustow said the reasons why our emergency services personnel deserved recognition were endless.
Cr Mustow said you could never underestimate the power of saying "thank you".
"These women and men make it their business to take immediate action when disaster strikes," he said.
"They are the first ones to respond to a crisis. They risk their lives to keep us all safe, and save the lives of others.
"It is always nice to thank them for their services on any given day; it would be extra special to be able to say it on Australia Day."
One of the highlights of Australia Day is the Richmond Valley Australia Day Awards.
Nominations are now being accepted for the following six categories: Citizen and Young Citizen of the Year; Volunteer and Young Volunteer of the Year; Sportsperson and Young Sportsperson of the Year. Nominations close Monday 9 January.
Council's General Manager Vaughan Macdonald is encouraging the Richmond Valley community to consider people who are worthy of recognition for helping to make our region a better place to live.
"The annual Richmond Valley Australia Day Awards program recognises and honours the outstanding achievement of individuals within our community," Mr Macdonald said.
"Whether it's a sporting, social, environmental or cultural endeavour, we want to know about it."
You are invited to nominate a friend, family member, community leader, colleague or even someone you do not know but recognise as a leader – any Australian who you believe makes our country a better place to live.
Nominations are encouraged to be submitted by way of an online form available on our website and can also obtained from Council buildings, libraries, online at https://richmondvalley.nsw.gov.au/community-services/australia-day/
Updates to the event program will be published to the Richmond Valley Australia Day Facebook page www.facebook.com/RichmondValleyAustraliaDay.