The Stoning – written by Peter Papathanasiou, read by Todd Boyce
Reserve this audiobook book here.
Reserve the written book here.
Listen to the eAudiobook now available from uLibrary here or on your  uLibrary app.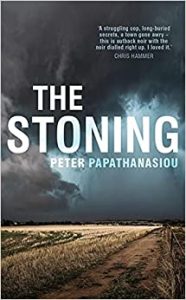 Cobb is drying up in many ways.  Its an outback Aussie town in longterm drought condition. Most businesses and townfolk have retreated to the city for a better life, jobs and to forget Cobb.  Cobb is one of those towns remembered locals  back in the not so  'good old days' when everything was supposedly 'good' for everyone.  But after the shocking death and ritualistic stoning of town school teacher Mollie dark secrets about Cobb's past casts long shadows on Cobb's darker present.  Tensions between the locals, refugees and the staff from the detention centre on the outskirts of town, racism and horrific historical and present day treatment of the First Nations people, community frustration with the drought, drug and alcohol problems create an explosive situation.  Enter city Detective Sergeant Giorgios or George Manolis who spent his childhood in Cobb as one of the many migrant families who had businesses there in the 'good old days'.  Manolis' return to Cobb to solve the school teacher's death puts him on a deadly path of discovery as he uncovers much more about town folk and his own past than he expected.
5 stars from me!!! I LOVE Jane Harper and would recommend Peter Papathanasiou's The stoning to anyone who enjoys this gritty Aussie outback mystery/thriller genre.