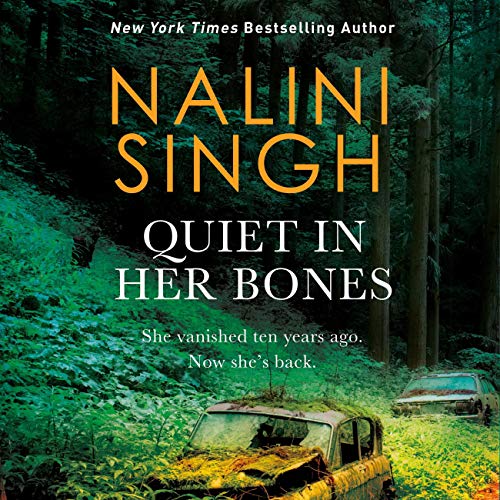 Quiet in her Bones by Nalini Singh
What a mystery!  So many twists and well crafted suspects.   A really interesting bildungsroman mystery from the point of Aarav Rai a young, Indian-New Zealand author making a name for himself as a rising star in the mystery novel, made-into-a-Block-Buster-film industry.
After growing-up with loss, alcohol abuse and dangerous risk taking Aarav is back living in his father's designer home amongst the wealthy, A-listers atop a forested mountain range where privacy, multi-million dollar views, the most exclusive cul-de-sac addresses and deepest, darkest secrets of the home-owners reside.  When just 14 Aarav's Mum the very smart, beautiful socialite Nina Rai went missing. Living-it-up on her hubby's 250K stashed-cash, nest-egg with a lover roared her tyrant husband but presumed dead, horribly murdered thinks Aarav.  Aarav recalled Nina screaming then speeding off in her Jag that stormy night leaving a who's who party,  another violent, drunken brawl with Aarav's father, her home, lux possessions and the life she knew, but she would never have left Aarav.
Once Aarav left home he was never, ever going back to his father's house because Aarav knows his father is the killer.   But after the suicide of his partner and near fatal car-crash Aarav needs care and has no choice but to return home. One grey morning fate intervenes – two NZ detectives are at the door, his Mother's Jag has been found wrecked with the body of a woman just out-of-sight off the steep and treacherous mountain drive nearby their protected cul-de-sac.  Aarav is determined to discover the truth about the disappearance and death of his Mum Nina Rai no matter if it kills him.
5 Stars.  Brilliant!  Mystery is a new genre for Singh and a long way from the erotic romance novels she is better known for.  Nalini Singh needs to write more mysteries and soon!
Reviewed by Corinne Hughes – Kyogle Branch Librarian