Murder at the Races – written by David Pearson, read by Aidan Kelly
Reserve this audiobook book here.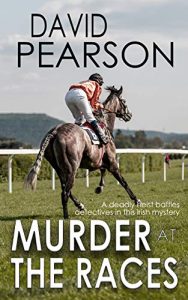 If you like mysteries about not so colourful racing identities, Irish culture  and the horse industry then this mystery is for you.  When a well known bookmaker is robbed and killed after the annual Galway Race meet, the motive seems clear.  Robbery gone wrong.  But canny DI Maureen Lyons is not so sure.
If you like Dick Francis' racing themed mysteries and the Celtic life then you'll enjoy David Pearson's carefully woven mystery series.  I liked it and so will you. To be sure, to be sure! 4/5 stars