Double Solitaire – written by Craig Nova, read by Phil Thron
Reserve this audiobook book here.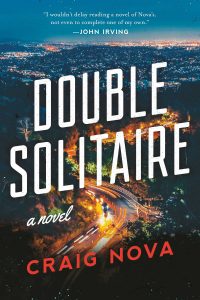 Quinn Farrell is a modern-day fixer. Just like in the movies and urban legends he really does  fix or clean-up rich, celebrity, sports star, famous/infamous people's messes for a lot of money.  Once Farrell viewed fixing as a very well paid job he was good at.  He also once thought he was professional enough to be objective but as he gets older he begins to feel judgemental about his clients. Farrell tells himself he'll know the fixing job that will help him decide it's time to retire.  Either that, or he'll have a big enough nest egg to escape, retire, move far away and enjoy the nice life before he's too jaded and ends-up bitter and alone.
2am – Farrell is phoned by a Hollywood producer he's fixed for before.  It's a familiar story – the latest movie star on the rise and leading man (Tony) has got himself into a situation.  Tony's had a cocaine party at his place invited loads of film people plus a bevy of gorgeous, young starlits only to learn one is claiming she's under age and wants a payout for her silence.  Farrell arrives at the address where he finds a very angry Tony and a very articulate, young, Alaskan girl called Christine calmly sitting on Tony's couch.  Christine wants to return home. Christine's over tinsel town's fake promises but feels owed and refuses to leave till she's paid 20K.  Farrell strikes a deal.   Tony says he can't pay but the producer agrees to protect his film investment and will pay the cash tomorrow. Christine knows if she leaves she's lost her leverage.  Christine thinks while ever she stays at Tony's place she has the power, but Farrell knows different.  After near begging Christine to leave with him and get the cash tomorrow, Tony orders Farrell out of his house. When Farrell returns in the morning with Christine's 20K she's gone. Tony says he scrounged-up $5000 cash overnight for Christine and she left, but Farrell suspects otherwise.
5/5 stars from me!